Nowadays, because of the corona pandemic and the development of online businesses, many of us and our children spend most of our time at home. One of the best hobbies to use the best of our time at the house is to grow sprouts and microgreens. There are many plant options for this purpose, but among all, alfalfa microgreens and sprouts have a special place. They are easy, nutritious, and fascinating for kids. In this article, we will go through growing alfalfa microgreen or sprout indoors.
Growing microgreens at home is closest to having a personal salad bar. Very little space, such as kitchen window sill or guest room tabletop, With above-average lighting, you can harvest clean and tasty greens one after another to keep the home cook well supplied and happy. After all, the delicious taste comes in a small package. First-time users of microgreens are often amazed by the strong taste they encounter.
Microgreens and Kids: an ideal Match
Growing microgreens in your own home is a great way to show them the fun of gardening if you have kids. Alfalfa, peas, and radish microgreens are three varieties you may like to try with the children. These plants will germinate and grow so quickly that your kid will not have time to get tired of the project. In just a few days, the magical emergence of sprouts tells us everything about the power of seeds, soil fertility, and the essential role of water and light in growing things. It's a great project on a winter weekend when you have nothing to do outside, but it can be successful at any time of the year.
By growing alfalfa microgreens or other microgreens like radish and cress, children learn that plants and vegetables come from the earth rather than cans and boxes. At the same time, kids also learn to understand the deliciousness and value of homemade microgreens. Once your kids start getting lettuce to add to burgers or bean sprouts and alfalfa microgreens to put on grilled cheese sandwiches, you realize that this is one of the best children gardening activities for your kid.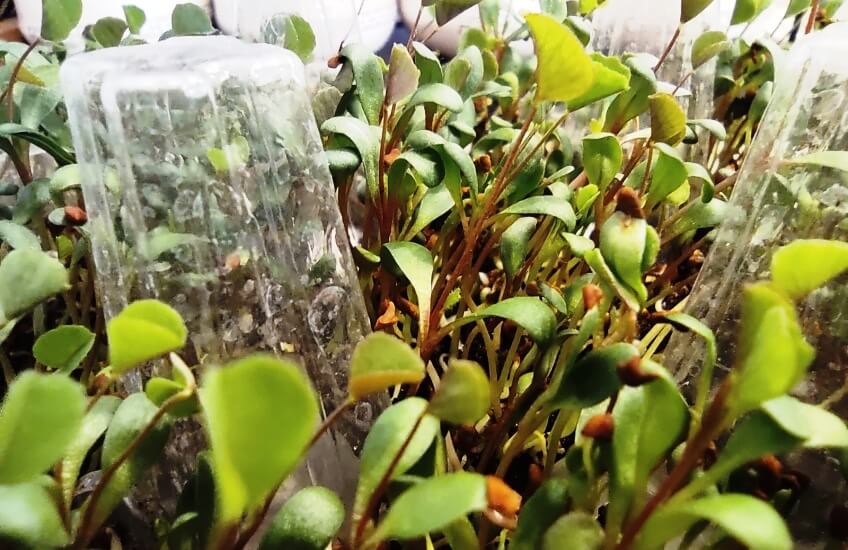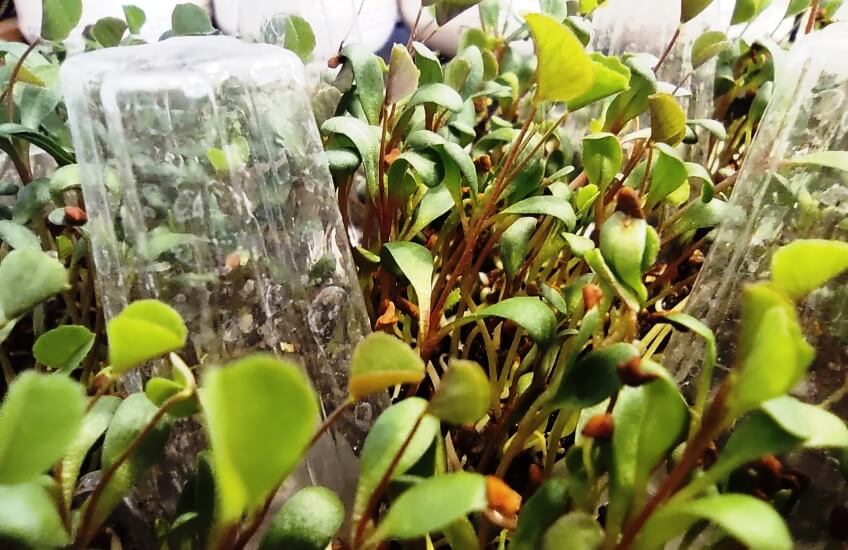 Alfalfa microgreens
Alfalfa plant has a long history; it was initially farmed more than 6,000 years ago in Persia, known as the "father of all foods." Because the mature alfalfa plant is bitter, it must be boiled before consumption. But the raw alfalfa microgreens and sprouts, on the other hand, have a mild flavor and are packed with nutrients in their original state.
Alfalfa microgreens and sprouts are high in phytoestrogens, which act as a natural estrogen substitute. Many studies have shown that they can help minimize the risk of breast cancer. They can also help with menopause symptoms, including mood swings.
Alfalfa microgreens have a mild flavor and are crisp, nearly like shredded romaine lettuce microgreen. They are tasty microgreens that we can grow in all seasons. Their flavor taste really fresh, and lots of people add them to their sandwiches or even soup. Alfalfa microgreens are super good as they have very low calories. They are the source of vitamin k and other needed nutrients for our body. In short, this microgreen contains Vitamins A, B, C, E, And K, Calcium, Iron, Magnesium, Phosphorus, Potassium, Zinc, Carotene, Chlorophyll, Amino Acids, Antioxidants, And Protein.
How to grow alfalfa microgreens with kids
Alfalfa microgreen seeds have a low price that makes them ideal for an economical and healthy life. For growing alfalfa indoors, first, you need a tray or something that can hold the soil or grow mat. you also need soil, alfalfa seed, and a spray bottle for watering the sprouts. After preparing these tools, you can grow them by following these steps:
How to grow alfalfa sprouts in soil
First, should pour sterile soil into a pot, egg tray, or a typical shallow tray. But before that, you need to make sure that the tray has some holes at its bottom to drain the excess water.
egg tray filled with a sterile potting soil
Second, saturate the whole soil by spraying water on it.
Third, sprinkle the alfalfa microgreen seeds very lightly all over the wet soil. You have to spread the seeds as much as you can so that the grown microgreens do not get so dense.
alfalfa microgreen seeds
Fourth, after sprinkling, spray water on seeds to absorb moisture.
Fifth, you do not need direct sunlight at this stage, but you should keep the soil and seed wet until germination occurs. So it would be better to place the tray away from the window and keep spraying the water on seeds every day.
After three to four days, germination occurs. As the germination occurs, the trays should be positioned in a place where they will get plenty of light. After a few days, microgreens should be ready to harvest. The leaves should be green and healthy.
alfalfa sprouts after 3 days
Alfalfa microgreens harvest time
Alfalfa sprouts grow 2-3 leaves after 8 to 15 days. This is the best time to harvest because the microgreens will be at their peak flavor. Alfalfa Microgreens might become bitter if you wait too long to eat them.
The grow mats provide a clean, even balance of air and water to the roots as the seedlings mature. It strengthens the roots, resulting in vigorous plants that are delicious and nutritious. So, if you like to start growing alfalfa indoors, make sure to use clean, safe soil like peat moss or cocopeat.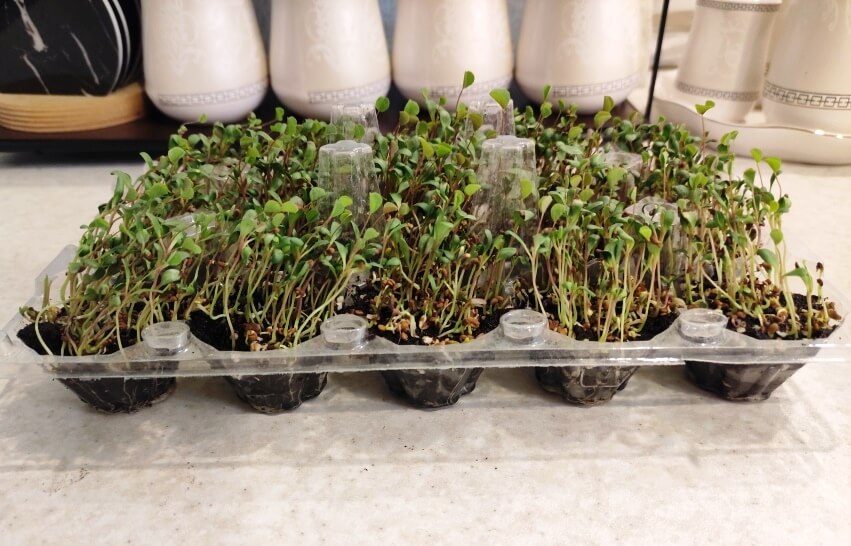 alfalfa microgreens after 7 days
Alfalfa microgreens benefits
Alfalfa has been shown to lower cholesterol and aid with blood sugar regulation and menopause symptoms. It is also popular since it's packed with nutrients, including magnesium, copper, vitamin K, folate, and antioxidants.
Alfalfa also has a very low-calorie count. However, some people, such as pregnant women, those on blood-thinning drugs, and those with autoimmune illnesses, may need to avoid alfalfa.
If you are interested in growing alfalfa microgreens indoors, you can purchase alfalfa seeds or alfalfa microgreens growing kit from the Amazon website.