Compared to the great outdoors, the garden represents a relatively safe haven for children. There are a few things that you can do to guarantee garden safety for kids in family gardens and lessen the risks of accidents. You could make outdoor gardening and playing outdoors safe just by some simple, easy-to-follow gardening safety tips and rules.
Garden safety for kids 
First : Reduce the risk in garden
Before you allow children to roam freely in a garden, you need to follow these gardening safety tips to have garden safety for kids:
Never leave young children unattended in the garden
Look for open or poorly secured manhole or cellar covers and make sure they are secure before letting children out.
Check that all boundaries are impenetrable and gates are locked.
Fence off and drain ponds of the garden where your young children, including friends of your own kids, are likely to use.
Look out for sharp objects, including barbed wire, around the garden boundary and consider removing and relocating plants with sword-like leaves (for instance, Yucca and agave) as well as prickly or thorny plants, like roses and barberry.
Make sure your family is up to date with their tetanus immunizations because even a small cut or thorn prick can introduce the disease
Put tops on canes (stakes) to protect eyes.
Children love to climb, so secure steep drops, such as those next to decks, retaining walls and steps, with guardrails.
Lock away tools as well as chemicals, including outdoor paints and preservatives, lawnmower fuel, oils, lubricants, and fertilizer.
If there are pets around, check the garden for any feces and pick them up and dispose of them on a regular basis. Stress to children that they must not touch it and always ensure they wash their hands as soon as they come in.
 
Second: protect the kids' skin
     Children are particularly vulnerable to damage from the sun, especially those with fair or freckly skin or with blonde or red hair. The result of sunburn is not only painful but can also potentially store up health problems for later life.  As result, in order to have a garden safety for kids and prevent such casualties, you need to do the following recommendation:
Apply specially formulated children's sunscreens with high UVA and UVB protection. Reapply often and limit the amount of time spent in the midday sun.
Provide shaded rest areas under trees, in tents, or under temporary canopies. Offer drinks to keep children hydrated.
Put on a brimmed hat. Boys will often be reluctant but could be persuaded with a cowboy Stetson, Indiana Jones-style explorer's hat, or pirates tricorn.
Cover up with a T-shirt or long-sleeved shirt.
Third: poisonous and irritant plants

gardening safety tips
     If you suspect your child has eaten something poisonous in the garden, take them straight to the hospital emergency department with a sample of the plant. Do not try to make them vomit. In order to have a garden safety for kids, Never grow Ricinus communis (castor oil plant) in a garden as it is highly toxic. Some plants have potentially irritant hairs or sap that may react with sunlight and may irritate the skin. Ruta graveolens (rue) is one of the worst examples of the latter type. Contact with this plant will require emergency medical treatment. Here is a list of some poisonous plants which endanger garden safety for kids:
Angel's trumpets
Castor oil plant
Cherry laurel
Daffodil
Delphinium
Foxglove
Ivy
Laburnum
Lily of the valley
Mezereum
Monkshood
Portugal Laurel
Rhubarb
Rue
Spurge
Tobacco plant
Yew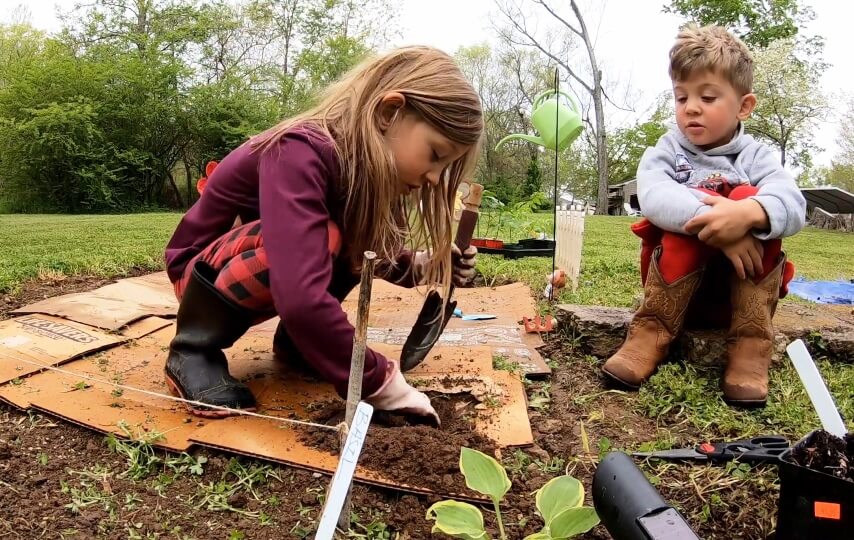 Fourth: keep hands and feet safe
Where possible, in kids gardening activities, children should be encouraged to undertake gardening without gloves as this increases their sensory experience. However, when using digging or cutting tools or handling prickly or irritant plants, they should put on a pair of children's gardening gloves. Ask your children to wash their hands when they come in from the garden, especially before eating and discourage nail-biting or finger-licking when outdoors. 
Wellington (rubber) boots or stout shoes protect toes from accidents with tools or sharp objects in the soil, so should always be worn when gardening.
Finally: kids gardening tools and equipment
Showing children how to use tools properly helps prevent accidents and makes gardening more rewarding and guarantees garden safety for kids,. Encourage them to clean, tidy away or hang up their garden tools and equipment after use, so they are out of the way and will last longer. Here are some gardening safety tips for correct usage of gardening tools:
Wear thick gardening gloves when using digging or cutting tools. Adult supervision is always required when using these tools.
Distribute the load in a wheelbarrow evenly.
Do not overload wheelbarrows or garden trolleys, and use one that is a suitable size.
Do not try to lift too much soil on a fork or spade when digging. Adult supervision is required, and help should be given.
Do not use secateurs or pruners unsupervised and always leave them closed with safety catch on. Younger children should not use them.
Never leave rakes, hoes, or other long-handled tools lying on the ground.
Reference:
Kids first gardening book by Jenny Hendy
If you are interested in kids' gardening activities and garden safety for kids, you can click on the link below and purchase Kids' first gardening book from  Amazon web site