Microgreens are very small plants that are only a few inches tall when harvested. While the nutritional content of various microgreen types varies, they all offer a good amount of vitamins A, C, and K. Microgreens also contain calcium, iron, magnesium, potassium, zinc, and B-complex vitamins.
Microgreens are one of the best options to include in our daily meals as they are more nutrient-dense than most mature veggies. However, it's essential to know how much microgreens we should eat. So, the main question is:" How much microgreens to eat per day?"
In this article, we will answer this question and also other frequently asked questions about eating microgreens.
How much is one serving of microgreens?
According to several websites, a serving of microgreens is about 25 grams. This weighs little more than 3/4 of an ounce [1]. However, the amount of serving might still vary depending on the microgreen type. For instance, adding 3/4 of an ounce of slightly flavorful kale microgreens to a meal would be simple. However, consuming so many wasabi mustard microgreens might give you gastrointestinal problems.
How much microgreens to eat per day?
A typical adult person should have five to thirteen servings of fruits and vegetables each day, according to the United States Department of Agriculture (USDA).
Microgreens can be used in place of some or all of these servings as they can be added to meals more easily than mature veggies.
Microgreens are easy to incorporate into various dishes since they are adaptable and frequently have complementary flavors. They are excellent in egg dishes and can be used as a garnish for soups or meats. They can also be blended into smoothies or juices and used in sandwiches, salads, and wraps.
Can you eat microgreens every day?
Yes, you can have microgreens daily. Eating microgreens daily has the same health benefits as eating fruits and vegetables. But you should not consume too much microgreens each day. You should prepare a well-balanced diet based on your size, age, and weight.
Consuming microgreens is crucial for maintaining human health; however, exceeding a certain amount can negatively affect the body. For instance, Buckwheat microgreens contain fagopyrin. The excessive consumption of fagopyrin may result in considerable discomfort. As a result, it is recommended to limit your daily intake of this microgreen to 50 grams.
Another example is Cruciferous vegetables (thiocyanates). Thiocyanate is a substance found in vegetables from the cruciferous family, including broccoli, cabbage, and cauliflower. The consumption of cruciferous vegetables and microgreens is typically recommended, although excessive amounts of thiocyanates can be detrimental.
Thiocyanates prevent the absorption of iodine. This could result in hypothyroidism (a condition in which your thyroid gland does not produce enough hormones). As a result, attempt to minimize your daily intake of cruciferous vegetables, especially if you have thyroid issues.
Why microgreens?
You can get a variety of vitamins, minerals, and nutrients from different kinds of microgreens. Microgreens are a fantastic source of minerals, including calcium, magnesium, iron, selenium, and zinc, as well as vitamins A, E, C, and K.
Microgreens have a higher concentration of nutrients than their fully-grown counterparts [2]: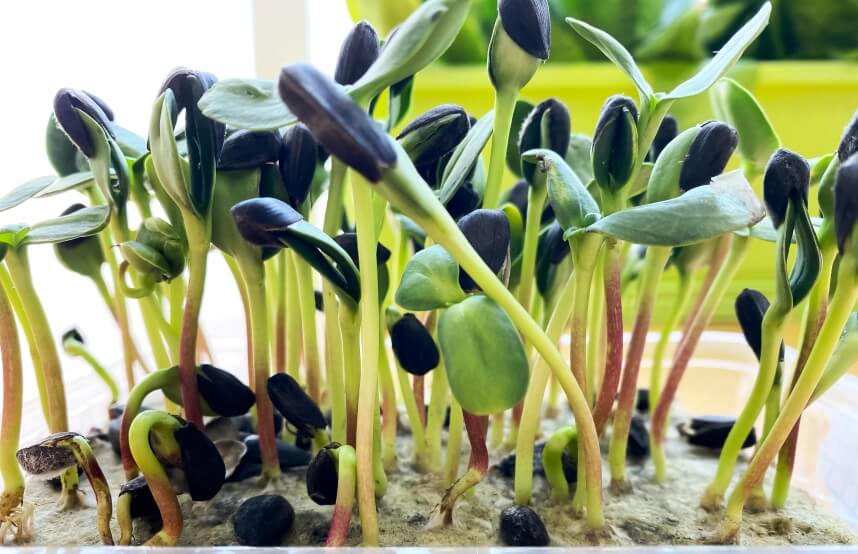 Microgreens health benefits
These tiny plants have remarkable nutritional value and provide various human health benefits due to their high mineral and vitamin content. The health benefits of Microgreens are numerous. Some of the important health benefits of microgreens are: lowering the risk of Alzheimer's and heart disease, lowering the risk of cancer, enhancing eyesight, controlling diabetes, and aiding digestion.
How to choose the microgreen flavor
While the flavors of microgreens are comparable to those of their mature counterparts, they have a wider range of tastes and a distinctive flavor profile.
How to add microgreens to your diet
You can eat microgreens raw, cooked, boiled, juiced, etc. Here are different ways to consume microgreens in your daily diet: 
Soups
Salads
Quiches and omelets
Baked foods like zucchini bread
Smoothies
Stir-fries or rice dishes
Conclusion
"How Much Microgreens To Eat Per Day?" is the main question we addressed in this article. We also addressed some additional frequently asked issues regarding including microgreens in a daily diet.
You can consume enough microgreens each day to fulfill your RDA for veggies. Consuming microgreens is the same as consuming other veggies.
Try to include a variety of microgreens in your diet. This increases the enjoyment of eating microgreens and offers a wider range of nutritional and health advantages.
If you have ever grown microgreens or would like to try it out, please share your experiences and views in the

comments section

below.
And if you like this article, feel free to

share it

on social media.