A Child-Friendly Garden has a significantly different appearance and atmosphere than a conventional adult garden. You might have toy car racetracks encircling your tomato plants, small dinosaurs creeping through your salad beds, or plants blooming in pathways from dropped seeds. These are all signals that you are on your way to creating a beautiful world for your kids in your family garden, one where they can imagine, explore, play, and dream.
This article will look at some child-friendly garden design ideas and some basic guidelines for creating them.
How to design a child-friendly garden
Here are some guidelines to follow while creating a new child-friendly garden or making an existing one more kid-friendly:
Involve your children in garden design 
Make your garden play-friendly 
Create a garden that is as safe as it is enjoyable 
Incorporate whimsy and a touch of magic 
Make the most of your limited space
kid-friendly garden design ideas and rules
Rule 1: Involve your children in garden design
When you talk to children who enjoy their gardens, you will hear about items like catapults, painting easels, sandboxes, Frisbee targets, and gopher-viewing chambers that you might not have considered part of your family garden previously.
Suppose children can see themselves involved in selecting the family garden ideas and designing the garden. In that case, they are more likely to feel ownership of it and like spending time there. Of course, the best way to do so is to include them in every step of the designing process.
It is no surprise that some of the best kid-friendly garden design ideas come from children themselves. For example, a 10-year-old boy, Lee, recommended that his parents construct a ship's crow's nest in their backyard. 
Rule 2: Make Your Garden Play-Friendly
Growing and caring for plants is not the only aspect of family gardening. Of course, we want our children to have those experiences and acquire those life skills, but if that is all you focus on, your kids may lose their interest quickly.
Exploration and play are two of a child's main tasks in life, and most children excel at both. A fantastic goal is to create a garden that fits both your and your child's needs.
It is critical to discuss the boundaries of vulnerable growth sections and play spaces to make your garden both enjoyable and productive. This could simply mean educating your kids about the sensitivity of seedlings, but you can also use fencing, lumbers, branches, bricks, stones, or urbanite to build barriers and boundaries if necessary.
According to many families with small children, creating a boundary keeps young children from eating unripe berries and fruit. Parents can reopen these spaces when their children grow older and train them to identify and pick only ripe fruit as they become older.
Idea 1: Wide paths and narrow beds
Paths should be broad, and beds should be narrow in a child-friendly garden so children can easily move between them. Two kids facing each other with arms stretched out in front of them is a wonderful method to mark out new beds.
You can ask them to touch each other fingertips and measure the distance between them. This will give you an approximate idea of how wide a bed should be so your children can reach the center without stepping on the bed.
Idea 2: avoid vulnerable plants
If you have a garden with considerable space, keep your most sensitive plants as far away from play areas as possible, and surround play areas with plants that can endure daily trampling by feet, bikes, balls, and other similar objects. Some examples include flowering shrubs, woody perennials, sedums, and groundcovers.
Idea 3: digging-only bed
Regardless of available space, practically every parent emphasizes the necessity of providing their young children with a digging-only bed. There are no plants in a digging-only bed, only shovels and soil—and maybe a toy dump truck or two are usually available in these kinds of beds.
This garden bed is reminiscent of a sandbox at the park, where children can play with toys, plant twigs, or dig large holes. Having a dirt play area can keep kids and their friends occupied until it gets dark.
Rule 3: Create a garden that is as safe as it is enjoyable
Gardens are generally secure places, but there are a few things to keep in mind for kids' garden safety. Make sure your soil is free of lead by conducting a lead test. Lead pollution can occur when soil is imported from a polluted source or when lead paint, widely used before 1970, is used. Lead paint chips and leaching can contaminate the soil.
Take the time to evaluate your soil if you are gardening in a new location, especially in an urban setting. For testing resources, contact your local environmental health office or nursery center. If your soil is polluted, you will either have to remove it and replace it, or you will have to garden in above-ground raised beds that are sheltered from the original soil and filled with imported dirt.
Chemical fertilizers, weed killers, and pesticides are generally toxic, and it is not worth having them in your backyard. Humans have been growing food without chemicals for thousands of years, and you can do it too.
Begin with good soil that may be altered with compost, which is a natural fertilizer. Use organic gardening techniques wherever possible. Contact your nursery professional for the least hazardous choice if you need to use a pesticide.
Idea 4: choose appropriate gardening tools
There are specific duties and chores that are better suited to certain ages of children. For instance, some activities are appropriate for gardening with toddlers,while others are appropriate for students. 
Maintain a balance of activities that are appropriate for your kids' abilities, and monitor their progress as they learn new skills. Using a child-sized tool suited for the activity can make gardening much more straightforward.
These smaller tools allow children to dig alongside you, giving them the sense that the garden is also theirs. All you will need is a little shovel, a watering can, and some gloves. A miniature wheelbarrow, rake, or other equipment might also be useful additions.
Water from hoses, sprinklers and watering cans can provide hours of entertainment in the yard, but standing water in ponds and containers can be dangerous to infants and toddlers. Allowing small children access to ponds or even buckets might be dangerous since they can drown them.
To read more about kids gardening tools, read << Kids Gardening Tools For Schools >> article.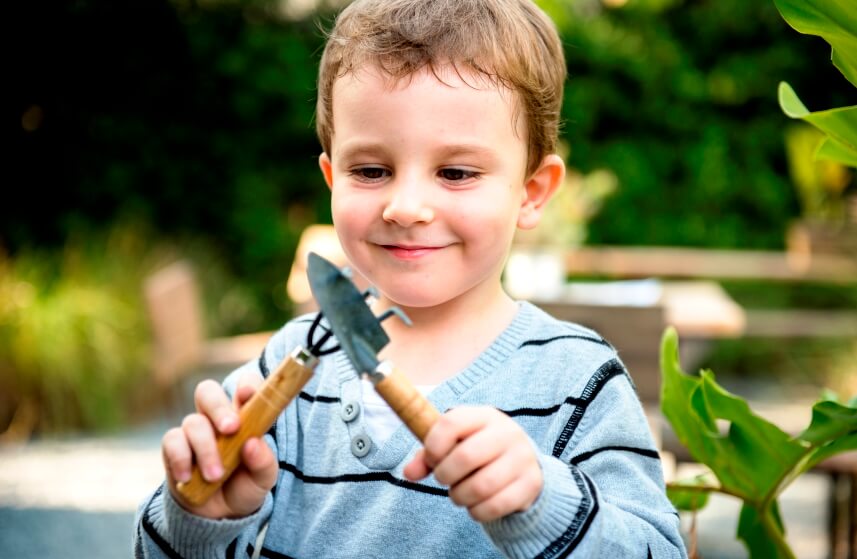 Idea 5: use fences and barriers
Fences are an excellent way to create a barrier for your baby till he or she is older. A solid metal grid or a piece of thick Plexiglas cut to the shape of the pond and fastened a few inches below the water line can be used by parents to create ponds. This prevents small children from falling all the way in and helps to support water plants in pots.
Idea 6: be careful about mosquitos
Standing water attracts mosquitoes, so empty any containers in your garden with stagnant water. Consider putting mosquito fish in your self-contained ponds (Gambusia).
However, be cautious when introducing Gambusia to areas where they may infiltrate nearby rivers. In the wild, they have been known to be an invasive species, which means that they can wipe out local fish and frog populations.
Idea 7: be careful about poisonous plants.
Not all plants are kid-friendly plants. Poisonous plants and plant allergies can make going outside a chore. When interacting with a kid who has plant allergies, use your best judgment, and keep in mind that allergic reactions change as people age. Those who suffer from allergies should seek professional help.
There are many poisonous plants, and their toxicity can vary from moderate annoyance to death. Different species exist in different parts of the world, and people's sensitivities to poisonous bushes differ.
Most plant guides list which species and sections of plants are poisonous, but children rarely consult these books. Teach your kids that not all plants are edible and that toxic plants should be avoided. The book:  Plants for Play by Robin C. Moore, is an enormous resource of species ideal for children's play places and includes a detailed list of poisonous plants.
Rule 4: Incorporate whimsy and magic in your child-friendly garden
Child-friendly gardens should be whimsical areas. Some gardens have play spaces identical to those found in any other yard, such as a sandbox, a playhouse, or a plastic pool. These are great for keeping your toddler occupied in the yard while you clean up.
To add more fun to these gardens, Plants can be placed tightly together to create a pumpkin jungle. It is a popular spot for kids to climb through, hide under large leaves, and pretend to be dinosaurs. Children can also build fairy houses or play with little dolls in miniature environments.
Idea 8: plant-based beds
Some families select plants based on their children's interests to create a kid-friendly garden. Rainbow beds, with flowers in every color of the rainbow (sometimes even in the shape of a rainbow); zoo beds, with plants named after animals (like tiger lilies and lamb's ear); and pizza beds, where you can grow wheat, tomatoes, herbs, and other ingredients for making pizza, are just a few of the popular beds.
When children construct signs for their garden beds, they gain a greater sense of ownership over the plants they have planted and a reminder of what they have to look forward to during the growing season.
Idea 9: make plant pathways
Consider lining the pathway with grazing plants if your children spend a lot of time in the garden. For instance, a mother planted strawberries, mints, lemon verbena, and grapevines along the path to the play structure in her family garden.
You may ensure that children have plenty of opportunities to collect and enjoy fresh produce from their garden by planting food-foraging plants along paths. Choose plants that ripen at different times of the year to encourage healthy snacking throughout the year.
Idea 10 : Garden Hideaways
When children are asked to create plans of their ideal gardens, almost all of them include a hiding area, in addition to some crazy suggestions (such as a helicopter landing pad). Cubbies, caves, secret passages, and hideaways are all favorites among children.
These areas sometimes appear organically in a kid-friendly garden, such as under a tree's hanging branches or behind a row of blueberry bushes. Others, such as tree houses or clubhouses within flower domes, are purposefully built.
Rule 5: Make the most of your limited space
Not everyone has an acre of land in their backyard to use as a home garden. Container gardening for kids is a terrific solution for regions that are not suitable or large enough for garden beds. Planting can be done in half wine barrels, small wooden planter boxes, ceramic pots, and huge plastic plant containers.
Simply ensure that the container you use has drainage holes and that you pay special care to watering and fertilizing because the plant will be limited in resources. Succulent plants like cacti and sedums, which are drought-tolerant, are fantastic options for containers if foods are not a goal.
Succulents come in a variety of sizes and shapes. They are tough enough to endure even the roughest kids, and they look fantastic with toy dinosaurs or fairies among them. Many herbs and flowers are also appropriate for container gardening, and some vegetables have been cultivated specifically for compactness.
Conclusion
Remember that child-friendly gardens do not appear overnight; they need time to develop. Take it easy on yourselves when planning interesting garden elements with your kids or developing or renovating your garden together.
If you are starting from scratch with a new family garden, remember that it is fine to dream big and start small. In reality, this is likely the most fantastic strategy for ensuring that you and your children have a garden that you can manage and enjoy. Your plants, as well as your gardening confidence, will expand day by day. You can bet that your garden will improve as the seasons and years pass.
Reference:
Cohen, Whitney, and John Fisher. The Book of Gardening Projects for Kids, 2012.
If you have any experience regarding this topic, please share your experiences and views in the

comments section

below.
And if you like this article, feel free to

share it

on social media.